Hi pretties!!!
SO today is the Christmas in July link up over at Everyday is a New Adventure??
Do you know Alyx? She's one of our favorites!!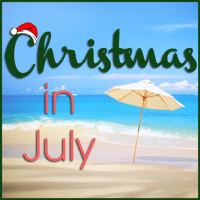 Any who, I'd like to introduce you to my new friend
Lori of A Crazy Walk on the Safe Side!!!
Such a lovely right!?! Inside and out! 🙂 I was paired with her for the Christmas in July swap!
So a few things you should know about Lori…. We have a lot in common! (Well done on the match up, Christmas in July girls!!!)
She's a 20 something newlywed
Fur mommy
College grad
She likes to read
Southern girl
Love her WIW posts!
She likes lace, burlap, florals and sparkly nail polish
 Click on over to A Crazy Walk on the Safe Side to see what I sent her!!!
Here's what I received in my package –
Pink Essie Nail Polish, Turquoise Essie Nail Polish, a pedicure stick, a lovely journal and some chapstick!
I LOVE the chapstick already! It's a new staple!  I'm wearing the pink polish as we speak. It's called Off the Shoulder in case you're interested. 😉 So excited for a pedicure day this coming weekend! And I am looking forward to writing in my pretty new journal!!
Thanks so much to Miss Lori for taking the time to choose gifts that fit me so well! 🙂
And to the ladies of the Christmas in July exchange! You girls rock!
Have a good rest of your week dolls!!!!