Hey friends!!!
If you're looking for Fancy This Fridays, it's still open! Just scroll down or click here.
We're interrupting the normal Friday schedule to bring you the….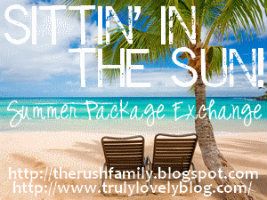 Reveal and link up!
Breanna
and I have had a great time hosting our first package exchange collaboration! We want to say a BIG thank you to those of you who joined in to make this so much fun!
My partner was the lovely Kate of
Life as a Stay at Home Wife
!! Kate and I exchanged a few emails and found we had a lot in common! Same favorite colors, newly married, love of sewing and crafting!
We even had the same wedding colors just in slightly different shades and flip flopped. (My girls wore pink dresses and carried aqua flowers.)
So needless to say it was lots of fun to swap with her!!!!
I received a sweet note from Kate! Everything was lovingly wrapped in some pretty pink bubble wrap and aqua tissue (she knew me well!). I also received some Laffy Taffy, Watermelon Sour Patch candy, a pretty smelling candle, turquoise nail polish, turquoise earrings and some zebra print nail stickers!
Thanks so much Kate for taking the time to choose items you knew I'd love!!
And I do!!! Love them all!!!!
SO, now it's YOUR turn! We want to see what you received from your swap partner!!
The linky will be open for a week so if you have yet to write your post you've got some time. 🙂
Again, thanks for playing and have a GREAT WEEKEND!!!