OK dolls!!! It's Friday once again!!!
I've decided to extend it through this week's Fancy This Fridays, so you have two chances to get your links in!
The giveaway will be closed at midnight on Sunday, same time as the linky party.
The winner will be drawn and announced in the Double Feature post (since there wasn't one this week) on Monday!
Comments for the giveaway will only be counted on this post.
So please go there to enter after linking here of course. 🙂
So… How was your week???
One evening Mr. UPS Man stopped by to deliver us this lovely…
I am SO excited!!! The mister not as much… but he has yet to realize our new treasure's potential!
Did I ever tell you I have some of THE most

AMAZING sisters in law

? Well, I do. I'm lucky like that. 🙂
This was our wedding gift from two of them. Thanks Steph and Arina!!!
I don't know if they even read this blog… Pry not… haha.
Time to link up lovelies!!!
Here's the Fancy This Fridays Party Rules!!!
1) Must be YOUR OWN project (we've had a few sharing other people's stuff… That's awesome, but we wanna see what YOU did!)
2) Must be linked to that project's specific post within your blog,
3) Grab our party button so others can party too!
4) Share some linky love with the other participants, by visiting and commenting on their projects as well! We ALL love comments!!
(And it would be SUPER COOL of you to say your stopping by from the Truly Lovely or Fancy This Fridays link up!)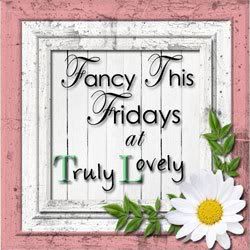 Thanks for linking lovelies and for entering the giveaway!
Good luck!!