We won a brand new award!!!
We are quite proud our bloggie buddies wanted to share these with us, so we created a special page.
Hope you'll check it out!
This one is from our good bloggie friends, the ladies of To Sew With Love!!
THANKS sweet friends!!!
Copy the award image into a post.

List 10 things that make you happy.

Tag 10 bloggers who brighten your day.

Put in a link to their blogs.

Notify the award receivers.

Recipients should link back to the sender's blog.
10 Things that make Kassi happy:
2. My fun and giving family
Us, with our wedding party
4. My doggies, Penny and Pandy
6. Crafting up some loveliness
9. Winning giveaways online! 😉
10 Things that make Kayli happy:
1. My religion.
2. My family.
3. My friends.
4. Music/singing.
Singing at Kassi's wedding
5. Going home.
6. Reading.
7. Baking, especially cookies or whoopie pies.
8. Making other people happy.
9. Dresses.
10. A clean space.
10 Lovely Blogs (in NO particular order)!!
NOW it's time to link up to Fancy This Fridays #40!!!
Fancy This Fridays Party Rules!!!
1) Must be YOUR OWN project (we've had a few sharing other people's stuff… That's awesome, but we wanna see what YOU did!)
2) Must be linked to that project's specific post within your blog,
3) Grab our party button so others can party too!
4) Share some linky love with the other participants, by visiting and commenting on their projects as well! We ALL love comments!!
(And it would be SUPER COOL of you to say your stopping by from the Truly Lovely or Fancy This Fridays link up!)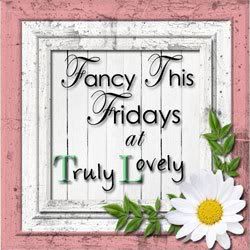 Have a lovely day sweet friends!!
Thanks for linking AND go, be HAPPY! 😉