The entire in law clan will be at our house tonight! So I am excited about that!
I'll have some fun stories and even projects to share from the weekend for sure!
What are you looking forward to this weekend??
Besides linking up here of course… 😉
OH, hey… Here's some giveaway links for you!!!
Be sure to click over and get entered ASAP!
A LOVELY necklace from Summer of Made by Munchie's Mama, who's also our current Bloggie Bestie!
Now… Onto Fancy This Fridays!!!
Fancy This Fridays Party Rules!!!
1. Please link directly to the project post on your blog.
Not the blog itself.
2. Please link only your OWN posts.
We prefer to see what YOU have been up to… not someone random.
3. Please grab a button and display it somewhere on your blog.
On your sidebar, on your posts, on your linky party page.
We don't mind…
4. We would LOVE if you would comment on at least one other link.
Just pop over and say Hello, coming by from Truly Lovely.
That would rock. 🙂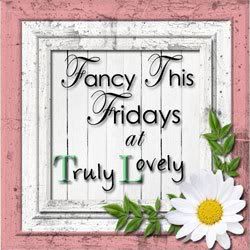 Have a LOVELY weekend sweet friends!