Happy Saturday lovelies!!!
Meet Ami of AliLilly!
She is one of our featured Large Ad Sponsors on Truly Lovely for February.
If you're looking for something fun to do this

Valentines Day

… 😉
Ami's Favorite Date
– "
BEST DATE I have ever been on….well, I am a die hard Rockets Fan. I have been slacking in the DIE HARD part for the past year but things are looking UP for the Rockets with a new rookie that is just CAH-RAZY awesome named Chandler Parsons. (Look up Chandler Parsons tip slam on JaVale McGee on youtube! I could watch that all day!!) So back to the date! For our anniversary David took me to watch Year of the Yao and then for dinner afterwards we ate at Yao's restaurant in Houston. The food was AMAZING! We had the most wonderful server as well. He even decorated our desert plates with a happy anniversary message. It was such a great night. It was nice that David didn't do the "usual", he knew what would really put a smile on my face!! I have to add too, that he has taken me to countless Rocket games for my birthdays. And All Star Weekend always falls on Valentine's Day weekend and you wont hear any complaints from me about watching All Star Weekend!! Of course I watch it with a heart shaped box of chocolates and fresh roses near by!! 🙂"
Some of my favorite items currently listed in her shop are…
Headbands are a newer addition to her shop… And this one is just GORGEOUS!!!
All you Twilight fans!! These Twilight Saga Inspired Earrings would make a lovely addition to your next date night attire!!! 🙂
And of course, every girl needs a sparkly Valentines Bracelet!!!
Thanks to Ami for being an AMAZING sponsor of Truly Lovely!!!
She's contributing to our giveaway next week, by the way, so be sure to come back for your chance to win your very own AliLilly item!!!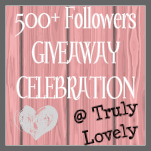 Hope you're having a TRULY LOVELY weekend!