Happy Friday sweets!!! Guess what we have today!?!?
A SURPRISE giveaway from the AMAZING Mark Montano!!!
He has GRACIOUSLY offered a FUN giveaway especially for Truly Lovely readers!!!
His NEW book,
Pulp Fiction, Perfect Paper Projects
!!!
I've checked it out and its full of fun and unique paper crafting ideas!!
So, how can you win this lovely??
In the words of Mark Montano himself, you're gonna have to "work for it"! 😉
MANDATORY:


1. Be or become a follower of Truly Lovely via GFC and leave a comment that you are.


2. Be or become a follower of Mark Montano's Big Ass Blog and leave a comment that Truly Lovely sent you!
AND
a comment below that you did all that biz.
Other Entries:


3. Follow Kassi on twitter and leave a comment that you do.
4. Follow Mark Montano on twitter and leave a comment that you do.
6. Share this giveaway on facebook and tag @Truly Lovely


7. Share this giveaway on twitter and tag @kassarie and @markmontano
Like so, "I just entered a FUN #giveaway from Truly Lovely @kassarie and @markmontano http://bit.ly/qrGRn4 "
9. Link up a project to Fancy This Fridays below.


That's NINE ways to win!!!
WE would REALLY love if you would complete them all…


SO you get an EXTRA ENTRY if you complete all nine entries and leave a comment below saying you did.
Here's the Fancy This Fridays Party Rules!!!
This week's link up will be open until NEXT Friday with a double feature next Monday to allow you to enter projects for the giveaway for the whole week!!


1) Must be YOUR OWN project (we've had a few sharing other people's stuff… That's awesome, but we wanna see what YOU did!)
2) Must be linked to that project's specific post within your blog,
3) Grab our party button so others can party too!
4) Share some linky love with the other participants, by visiting and commenting on their projects as well! We ALL love comments!!
(And it would be SUPER COOL of you to say your stopping by from the Truly Lovely or Fancy This Fridays link up!)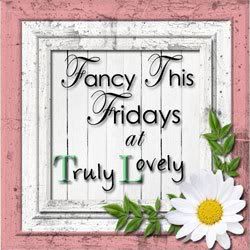 Thanks for linking lovelies and for entering the giveaway!
Good luck!!
Giveaway will be open UNTIL midnight on Sunday August 14.
Winner announced Monday during the Double Feature!