We have the first Bloggie Bestie of 2012 to introduce you to today!!!
Becky of Reinventing the Ordinary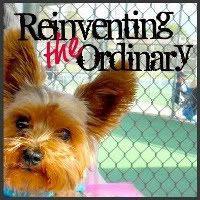 How cute is her pup there on her blog button (above)!
She loves her pets as much as we love ours!
Today she has a fun pet idea to share with you!
Take it away Becky!!!
Hi, I'm Becky from Reinventing the Ordinary.
With degrees in Art

…

Architecture & Interior Design

…

I have always enjoyed
rebuilding

…

reworking

…

and restoring.
I absolutely hate boring and really like to shake things up whenever possible

…
of course I gotta do it myself

…

and always on a budget.
My Etsy Shop features things I've made for my own home and pets

…

then decided to share with others

.

Today I thought I'd share with you my latest addition to the shop

.
I'll be adding this Fleece Crate Cover next week

…

so I thought I'd share a quick DIY for you guys.
1 1/3 yard fleece Color 1
1/2 yard fleece Color 2
*** this is for a small 12″ x 14″ x 18″ crate***
Piece A)

Cut one piece 26″ x 48″ (sides and bottom)
Piece B)

Cut one piece 20″ x 20 " ( liner for front door)
Piece C)

Cut one piece 52 " x 20 " (back, roof, and front door)
At corners

cut out 4″ x 4 " squares

as shown.
Fold under one long edge of Piece A for a 4″ hem.

This will be the front of the cover

.
On the other 3 sides cut slits 2″ wide and 4″ deep.
Sew Piece B to front short end of Piece C

.
Cut 4″ x 4″ square from corners on Piece C as shown …
then fold under a 4″ hem.
On the remaining

3 sides slits cut 2″ wide and 4″ deep.
Wrap Piece A

around bottom and sides of crate.
Hemmed edge should butt up along front edge of crate

.
Wrap Piece B/C

across back/top/front.
Align the top and back of the two sections.
Tie the top section to the side section.
As you can see I also used the same tie method to make a pillow.This is just only a short tutorial. I just gave you a thumb nail explanation. It's is a quick project … about 1 hour. If you have any questions … you can leave a comment atreinventingtheordinary.com… and I'll be happy to give you further directions.Starting next week this crate cover will also be on my Etsy Shop.
I hope you get a chance to visit my little blog some time.
Thanks again Kassi.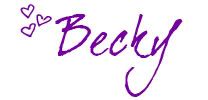 Thanks to Becky for sharing her cute crate cover and pillow with us today!
AND of course, for being the Bloggie Bestie at Truly Lovely this week!